Class of '81, '82 (and surrounding years) 25th Reunion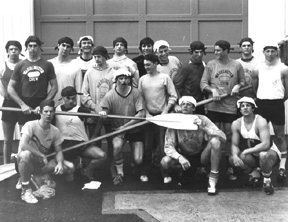 In the words of our beloved coach, it will be a reunion of "epic proportions" - Class Day weekend 2006.
It is technically the class of 81's 25th reunion, but everyone in the era is invited. The reunion will likely resemble this picture of the Class of '82 - actually gathering in one spot but incapable of crossing the oars (doo rags not provided).
If you have (clean) pictures from the era send them here - mail@huskycrew.com - I will post them on this page.
Charlie Clapp has taken on the leadership role. He suggests we meet at The Attic (4226 E. Madison) Note: last minute change to the Red Onion 4210 E Madison, Friday 3/17, 7:00 pm - on. The 'formal' event will be in conjunction with the VBC banquet 3/18 (Erickson). Class Day (Sunday 3/19) will be at the crewhouse. That includes the annual free bbq (Cohen and Forney) and whatever else we come up with. More information will be posted here.
| | | | |
| --- | --- | --- | --- |
| | | | |
| Class of '82 freshmen pic on Gruntie Night | Erickson laking himself to appease the lake gods (so we wouldn't have to run stairs). The sacrifice was unsuccessful. | Harry Sloan and Bruce King from KOMO were big fans of the program and this vid proves it. Thanks also to my dad for taping and saving it so we can replay it 25 years later! | Watne and Dick at the Pac-10's in 1980 |
| | | | |
| Bellingham 1979 grunties | Gadwa and Lauber winning the LP final at Henley '81 | Marius at Henley '81 | Awesome Crew of '82 - thanks Kevin Hansen |
| | | | |
| More from the Hansen Collection | Corriveau - from the Hansen collection | Nice Mohawk | From the Hansen Collection circa 1980 |
| | | | |
| | | | |