The Hunter (2009)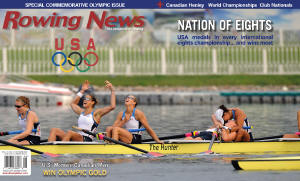 On August 17th 2008, the U.S. Women's 8+, including the UW's Mary Whipple and Anna Cummins, crossed the finish line of the Shunyi Olympic course as Olympic Champions in a shell named The Hunter. It was the first Olympic gold medal for any U.S. Women's rowing team in 24 years - the last time being the 1984 U.S. Women's 8+.
That 1984 crew, like the 2008 crew, included UW athletes: Betsy Beard-Stillings, Kris Norelius, Shiryl O'Steen and U.S. Olympic Women's coach Bob Ernst all hailed from Washington. In addition, there was another common Washington theme. The 1984 U.S. shell, the Friendship, had been donated by W. Hunter Simpson, the long-time UW rowing benefactor and University of Washington Regent. The understanding was that the U.S. would row the new Empacher at the '84 Olympics, then come to Seattle as the women's varsity shell at Washington. And so, months after winning gold at Los Angeles, the boat arrived in Seattle and was christened Jane's Friendship, in honor of the late Jane McDougall, a gifted Washington and U.S. National Team athlete. Jane's Friendship would continue as the varsity shell for years to come, and still sits today in the boat bay at Washington. More on the 1984 team and their story is here - 1984 Olympic Gold Medal Women's Eight.
Fast forward 24 years. Once again the Simpson family - this time to honor the lives of both W. Hunter Simpson and his grandson R. Hunter Simpson - come forward to make the same offer to the 2008 Olympic Team and Washington. And in a remarkable continuation of history, the family watch together as The Hunter crosses the line - just like the Friendship - carrying nine Olympic Champions. More on this story, including the strong bond between the 1984 and 2008 teams, can be read here - Seattle P-I - Racing Shell's History Alone is Worthy of a Gold.
On March 28th 2009, immediately following the Class Day awards ceremony, The Hunter will be dedicated as the newest shell in the fleet at Washington. On hand will be members of both the 1984 and 2008 Olympic teams, the Simpson family, and many close friends of the program. We invite all of our friends, alums, and parents to join in the festivities immediately following the barbecue on the apron of the shellhouse as The Hunter is splashed with finish line water from the Montlake Cut, and is rowed for the first time from the docks of Conibear.
More on the 2009 Class Day schedule of events can be found here - 2009 Husky Crew Events.
Also see - Seattle P-I, 2/17/09: Gold-medal vessel ends voyage at UW

| | | |
| --- | --- | --- |
| | | |
| Hunter Simpson at the launching of The Bodacious, the shell gifted by the Simpson family in 1981 to the Washington Women's varsity, beginning a five-year streak of National Championships in the Varsity 8. | | Hunter and Dottie Simpson, with Women's coach Bob Ernst, at the dedication of Jane's Friendship in 1984. Note the Olympic Rings on the bow deck. |