Windermere Cup Live Webcast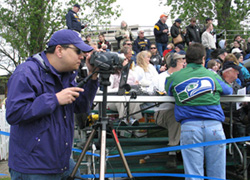 For our friends and family that cannot make it to the races May 3rd, GoHuskies.com, in conjunction with the Washington Rowing Stewards, will be webcasting the races live beginning at 10:45 a.m.
Our webcast will once again include audio play by play with Stewards Al Erickson '82 and Erin O'Connell '96. Spotters Doc Slepyan and George Teasdale will be assisting, with Brian Tom at the video camera and controls (seen to the left in our inaugural webcast in 2007).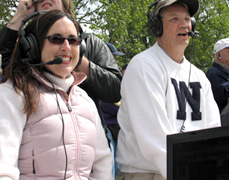 You can watch the webcast free on the "Dawg Channel" at All-Access here - Dawg Channel All-Access - Washington Athletics Streamed Live and On Demand. Viewers will need to provide a user name and password to login.
More information on the 2008 Windermere Cup can be found here - Washington Rowing - Windermere Cup, with information on the Stewards' Enclosure at the finish line here - Opening Day Stewards' Enclosure 2008.
See you at the races, or join Erin and Al on the webcast! Go Huskies!