2007 Moscow Race of Champions

9/1/07: Husky V8 Wins in Russia

Lenny O'Donnell with video from the launch during the race... we wanted to get this up on the site as soon as possible so this is raw (unedited) footage, but will give you an idea of the victory and the fanfare after. Included here are the start (Huskies are second from the left, Cambridge to their left); about midway through the race, Washington with an open water lead; with about 500m remaining (note the Peter the Great statue towering over the finish); the post-race awards. Thank you Lenny!

2007 Moscow Race Video - Windows (.wmv);
1:59 min, 15.3 mbs

2007 Moscow Race Video - Quicktime (.mov)

;


1:59 min, 15.0 mbs
Vernon Morningstar: Huskies Rule Moscow
Seattle P-I - UW crew gets front seat to history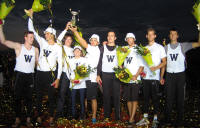 The Washington Varsity in Moscow, left to right (stern to bow): Will Crothers, Heath Allen, Jesse Johnson, Max Lang, Dave Worley, Steve Full, BJ Caron, Simon Taylor; Cox Katelin Snyder in front. WRF Photo/Callahan
9/2 Update - 5:00 p.m. pdt:
From Coach Callahan: On the race: "It's a river race. Both Cambridge and Oxford are really used to these kind of conditions. Our goal was to get out as quickly as we could and try to win the race early, and they pretty much did that. At three minutes in the plan was to take a twenty for the '58 guys, and it was a really solid move. At that point it was then a matter of controlling the race. The guys rowed the body of the race around a 33-34..."
On the athletes: "They are a tight group. They have been all year. It's tough coming into an event like this - everything is new. New course, new conditions, new boat, jet lag, you're staying in a different country - it's a lot to take in in a short period of time. But they handled it very professionally and with a lot of maturity. It's one of the constants they have had all year - they approach their races with a lot of purpose. And they also knew the historical value to it. We talked a lot about the '58 crew, and it was something that was constantly there - this idea of history and purpose."
On the event: "It was amazing. The whole course (3.5 km) was lined with people. We were treated very well by the regatta organizers and the members of the rowing community there. We were able to practice on the 1980 Olympic course, which was special too."
On the experience: "It was great. It was special to do something different, to end this year with a win at an event like this. It is different than Henley, but it was just as special, maybe even more given that next year we will be celebrating the 50th anniversary of the '58 crew. To have the film crew along was just sort of a constant reminder of that. And for me personally it was important to share such a meaningful victory with Bob, to be here with him. Of course we hope to be sharing more of these team victories in the future. So now we come home and start a new season, but it is a really great way to move from one season into the next. For us - for the whole team - it gave us a lot of spirit as we head into the next year..."
4:00 p.m. pdt: The team is stateside again; here are some photos during practice 8/27 from Coach Callahan:
| | | |
| --- | --- | --- |
| | | |
| On the Moskva River | In front of the 300 ft. statue of Peter the Great, near the finish line | Same day, further up the river, with the Kremlin in the background. |
| | | |
| | | |
9:00 a.m. pdt: And our first photos are arriving, thank you Lenny:
Some happy faces on the way to the post-race festivities...

Photo: Lenny O'Donnell, Veni Vidi Films

At the post-race banquet in Moscow, the Washington team left to right: Steve Full, BJ Caron, Max Lang, Dave Worley, Jesse Johnson, Katelin Snyder, Heath Allen, Will Crothers, Simon Taylor, Drew Fowler. Congratulations Huskies!

Photo: Lenny O'Donnell, Veni Vidi Films
7:00 a.m. pdt: Huskycrew wants to thank Lenny O'Donnell of Veni Vidi Films, in Russia to film this race (look for video here soon) and as part of the effort in place to film a feature length documentary on the 1958 crew, and their legendary victory in the then Soviet Union. (More here on the '58 team - Washington Rowing History - Men: 1950's). Look for a release of this documentary in 2008, the 50th anniversary of the event. Huskycrew will have more on this documentary as production proceeds.
UW Men Win Moscow Race Of Champions :: Huskies beat Cambridge, Oxford, Moscow State University
9/1 Update -
2:00 p.m. pdt: The race is over, the celebration is apparently still going strong (1:00 a.m. now in Moscow) - here's a little about the race: The conditions at the start were very choppy; supposedly boat traffic was to be closed on the river but large tour barges were cruising by, including 2 boats that went right between Washington and Cambridge, delaying the start. Cambridge then left the blocks on "Attention", and were called back, further delaying the start.
Once started we are hearing that one of the Washington oarsmen jumped his slide, but quickly was back on, Washington opening up a half length on the field very early, critical in this kind of race. By 500 meters the Huskies were up by a length, Cambridge in second, Moscow third and Oxford trailing. The Huskies then went into cruise control, although the water remained bumpy - hey '58 guys can you relate? - past the halfway point, where at about 2000 meters the water smoothed out and boat traffic appeared to subside. By then Washington was a length of open up on the field, and cruised home more than three lengths to the good "in the shadow of the gigantic bronze monument" to Peter the Great according to Lenny O'Donnell, where the VIP crowd was cheering loudly.
The awards ceremony took place at the finish area, with the Huskies presented with what sounds like an amazing trophy, each athlete receiving a bouquet and medal. The area was packed with Russian media, with an estimate of 30 or more cameramen there. With all those cameras one would hope we would get a photo soon!
We will have video here once the team is back. Huskycrew has had media requests as well so expect this to be well covered but possibly on delay as there appear to be a number of hurdles getting media back to the states. Stay tuned...
10:30 a.m. pdt: Huskies Win: From Lenny O'Donnell, film producer traveling with the team (10:30 a.m. pdt): "Huskies won by about 12 seconds, 4-5 lengths, took the lead from the start and never looked back... Cambridge 2nd (they jumped the gun on the first start - on "Attention" and were called back). Oxford 3rd, Moscow 4th. Huge Celebration, amazing trophy..."
9:00 a.m. pdt: Crowds are expected today in the main circle of Moscow at 3 million, as the city celebrates the 860th anniversary of the founding of Moscow (that would be 1147 a.d. for those keeping track) with a number of festivals and events. One of the main draws will be the "Moscow Race of Champions", a 3.5 km crew race up the Moscow river...
The Moscow Times - All Put in Order for City Day
RussiaToday : Interview with Mike Franklin and Michael Callahan on 2007-09-01 12:54 - Husky fans will want to watch this interview with Coach Callahan - he begins the interview with a rhetorical hat tip to the 1958 crew. (Interview is about 4 minutes long.)
RussiaToday : Interview with Stephen Royle and Richard Pryce-Jones on 2007-09-01 11:34
RussiaToday : Sports : Moscow hosts international rowing regatta
Max Lang - Lumby Rower Leads Huskies to Moscow
We are expecting photos, vids and messages from Moscow, but due to the whirlwind nature of this trip we are not sure what we will get, stay tuned...
8/31 Update - The guys practiced on the 1980 Moscow Olympic course today as well as the actual course on the Moscow River. The river itself was choppy but rowable. The draw for lanes was also held today, with Washington drawing lane 2: Cambridge will have the inside lane in lane 1, with Oxford in lane 3 and Moscow University in lane 4. Thank you Lenny for the update!
Seattle P-I: Husky Crew Earns Return Trip to Moscow
Huskies Ready For Russia :: Watch video interviews with new men's head coach and several rowers
From GoHuskies - Men's Team to Row in Russia

Here is a map of Moscow and our best guess on the route of the course - starting at the green dot in the lower left corner, finishing at the red dot near the center. That distance is about 4k, and the purported distance of the race is 3.5k, so give or take some there.

Last time Washington rowed in Moscow? 1958, and we all know what happened that time...
The Centennial Project: John Sayre describes the 1958 race as you listen to the original play by play given by a young Keith Jackson - Video: Huskies win in Moscow in 1958